About Us
Theatre and concert hall Ivana Brlić – Mažuranić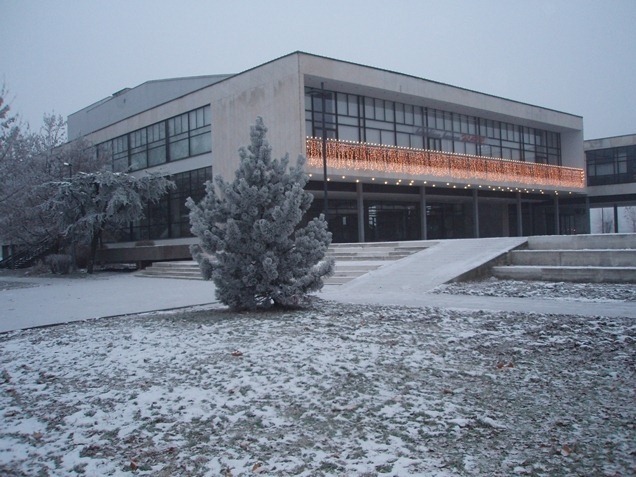 The Ivana Brlić-Mažuranić is a public cultural institution funded by the city of Slavonski Brod. It was opened on January 30th 1972, and the first programme that was performed at the hall on February 2nd 1972 was the operetta "Baron Trenck", by the Croatian National Theatre from Osijek.
For the past 32 years, this institution has been the major bearer of cultural events in Slavonski Brod.
It has been organising theatrical performances, concerts of classical and contemporary music, art exhibitions, book promotions, singing choir and folk ensemble gatherings…
The institution has prepared various programmes, taking care that as much of its repertoire is suitable for children and young people. It was founder and organizer of the festival "Gatherings of Professional Croatian Theatres", which hosted the most eminent Croatian theatres during the 10 years of its existence. HNK (Croatian National Theatre) Zagreb, HNK Osijek, HNK Rijeka, HNK Split, City Drama Theatre "Gavella", City Satirical Theatre "Kerempuh", City Theatre "Komedija", "ZeKaeM" Theatre are some of the theatres that performed here.
Beside the rich theatrical activity, this institution organized numerous concerts, hosting famous Croatian and world soloists, ensembles and conductors. It is important to point out performances of the Leningrad, Moscow and Zagreb Philharmonic, Berlin Symphony Orchestra, Croatian Radio Television Choir and Orchestra, as well as Zagreb Soloists. Among the famous soloists who performed at the Theatre and Concert Hall it is worth mentioning: Ljiljana Molnar-Talajić, Vladimir Ruždjak, Pavica Gvozdić, Vladimir Krpan, Lovro Pogorelić, Jurica Murai and many others.
According to our estimates, more than a million visitors attended programmes of the Theatre and Concert Hall Ivana Brlić-Mažuranić during the 32 years of its existence.
Currently, the Theatre and Concert Hall "Ivana Brlić-Mažuranić" (KKD IBM) organizes the festival "Brod music summer" and the newly found festival "Mia Čorak Slavenska". It is also co-organiser of the festival "In the fairy tale world of Ivana Brlić-Mažuranić" and supports the programmes "Brod Kolo Dancing", "Brodfest" and "St. Catherine's Fair", as well as programmes of other important city associations and institutions.